On Tuesday 7th June, Dr Gardner, Mrs Mitchell and the Fourth-form scholars visited Birmingham. Tela has recently moved on to examine chocolate, which began with a chocolate tasting in May (both groups were agreed that 43% cocoa chocolate is the best-tasting), thus a trip to Bournville was in order.
In order to orient ourselves in the industrial origins of Birmingham, we first visited Birmingham Museum and Art Gallery – one of the finest outside of London. Dr Gardner introduced Birmingham as one of the powerhouses of the nineteenth-century industrial economy, at the heart of imperial and national networks, and explained its simultaneous wealth and prosperity alongside the grinding poverty of industrial Britain. We then moved onto the Pre-Raphaelites galleries, containing the largest collection of Pre-Raphaelite art in the world, and discussed the radical nature of the Pre-Raphaelites who sought to break free from what they saw as the shackles of art placed upon them by the nineteenth-century establishment, and who sought to emphasise nature and reality as a response to the industrial world around them. Students also explored part of the Staffordshire Hoard, the largest ever Anglo-Saxon find anywhere in Europe (over 5,000 kg of gold alone!), with its intricate metalwork which had both religious and military purposes.
The afternoon saw us head to Bournville and – of course – Cadbury World! During the tour we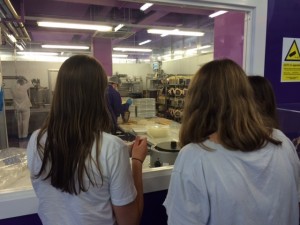 learned about the history of chocolate – Samuel Pepys was rather fond of a cup of hot chocolate – and about the history of Cadbury's. The site of Bournville for the factory was typical for the period because it had good canal and rail networks. Cadbury's Quaker origins meant that the family was more likely than many other factory owners of the period to develop a factory village in which his workers were well-cared for.
Following several chocolate bars, liquid chocolate tasting and a chocolate-making demonstration, we visited the beautiful village of Bournville to see the houses that had been built for Cadbury's workers. The buildings are Arts and Crafts style, inspired by the Pre-Raphaelite movement, and further a response to the putrid atmosphere of much inner-city back-to-back housing of the time. In 2016, on a hot summer's afternoon, the shaded grassy village green offered much-needed respite!